~The Story of Us~
Wolf x dog role play between bearkin and ~Blaire~
When a wolf looses his way to his pack family, he meets a beautiful and wonderful dog that never really had a home. They talk and have fun, but then the dog gets taken away and is sent across the country. What will happen next? What will the wolf do? Will they ever be reunited with each other? Let's find out.
~My character~
╔═══════════════════════════╗
How LONG do I have to W AIT…

Before you COMEHOME?
╚═══════════════════════════╝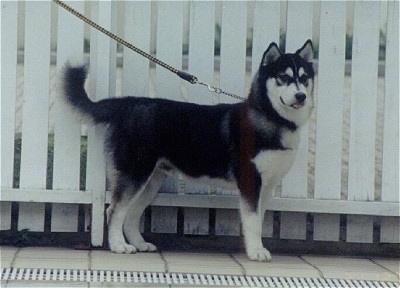 B ASICS
Name: Leanna

Age: 3 years

Type: Husky

Gender: Female
GET TO KNOW HER BETTER
Leanna is a husky that got separated from her parents a few weeks after she was born, since she got adopted to another family. The family somewhat abused her, but nothing major like torture. Just basic taunting and depriving. One day her owners left the door open, and she made a run for it. As far as she can tell, they are looking everywhere for her, but she is really good at running and staying hidden. She is also silent and kind of shy around new people and other dogs. She is the type to get confused easily, even though she tries to understand a lot of things that she just cannot understand yet.

bearkin

Warrior





Posts

: 54


Points

: 66


Reputation

: 0


Join date

: 2014-11-30


Age

: 22


Location

: wonderland



name: North       location: with his pack
currently observing his pack-mates
____________________________________________________________

A white wolf lay inside camp, its large paws folded beneath its body. He simply observed the wolves around him as they conversed with one another; his slightly pointed ears caught the conversations of passing wolves. Now his pack was not very big and they could hardly call themselves a pack at all considering everyone did what he/she wanted. It was very un-professional if you asked him but he did not care that much really.  North was his name and he pretty much survived on his own on the outskirts of pack like. Yeah, harsh but it was true and as a hunter it was his job to make sure the pack was healthy and well-fed. Which was hard considering those under him tended to slack off and basically hated him because they were afraid of what he would do.

North turned his maw to the left just in time to see a slender she-wolf exit a large den. The brute sighed, it was Semanti; the aplhess. North did not particularly like his alpha but he had to respect them which again was hard since he was emotionally distant to anyone and everyone. Most of the conversations died when the brown-grey wolf made her way towards the large rock overhang in the middle of camp; the white male just rolled his eyes. He did not understand what made an alpha important, they were just like any other wolf; rank was not the answer. Maybe it was good breeding which ruled him out significantly, his parents were both wretches that did not give a damn about him. He of course felt the same, he just did not care which was basically his answer to every problem. A grin crawled across his lips as he noticed Semanti's struggle to climb onto the rock, he cackled loudly which caused other wolves to stare at him with distaste. The alphess is looking a little more than plump today. He thought smugly, he of course knew that she was required as Jaegar's mate to provide him with the next alpha male in line.

Well speak of him and he shall appear, the wolf North had just been thinking about appeared in the entrance of their den looking rather angry. Jaegar's brown eyes slid over his pack until they reached North's large form, his face morphed into an expression of disgust. North only scoffed before turning away to face Semanti, who had finally managed to get on top the rock. "Pack, I have an announcement to make…" she began, her voice ringing out across the whole camp; North looked completely bored with everything she was about to say. "I and Jaegar have been blessed by Fenrir with pups, and we have decided to announce the new beta of our pack also." The she-wolf continued which brought whispers from everywhere and few other things. Everyone seemed happy with this news since they had not had a beta for two sunrises after Absalom's death earlier this spring. "It is with great…pride, that I announce North as our new beta male!" said Semanti hesitantly, the whispers became shouts of confusion and outrage. North, of course had nothing to say and all he did was get to his paws and head for the entrance of the camp.


bearkin

Warrior





Posts

: 54


Points

: 66


Reputation

: 0


Join date

: 2014-11-30


Age

: 22


Location

: wonderland



As the blue eyed white and black husky wandered around on the outskirts of, she saw a few humans talking and passing her by. She wanted to stop and beg them for food as she was really hungry, but she simply stopped herself from the thought of them taking her away. Yes, she was afraid of humans because of her last owners, but the other humans she met just a few days ago were more than happy to give her some food and water. Leanna thought about that memory, but the memory turned into the memory of her being abused by her owners. Why did my humans betray me? She couldn't help but wonder. Everything was so black and white to her; there was no real explanation as to why things happen.

What drew her out of her own little, useless thoughts was the sound of a car horn. She froze and looked up at the car only to see a human inside the car shouting at her. "Come on you dumb dog, get out of the road and stop being such a deer in the headlights!" As the woman shouted, Leanna couldn't help but feel sad empty on the inside. She whimpered apologetically, even though the woman threw a coffee cup at her, and then she quickly moved out of the way of the car to the other side of the street. Sometimes she swore that she was doing something wrong, but she did not know how they were wrong. She did know one thing though; that there was now coffee all over her already messy fur. Her fur was so messy from days upon days of sleeping on the ground, and having the dirt stick to her while it had rained just two days ago.Although she didn't seem to mind it that much, it still made her look like a filthy animal who will cause too much noise and trouble, as she heard most humans say those exact words.

She spoke and mumbled softly to herself as she wandered into a large forest without realization of where she was actually going. "Honestly if humans are just going to be mean anyway, then why do they insist on having pets… I was there friend! The little girl was nice and all… gave me treats and she actually loved me I think… but I had to leave and escape from the house." She mentally sighed as she stared at the sky and started to zone out as she walked. It wasn't too long before she stopped in her tracks and asked herself, 'wait… where am I going again…?" She blinked and glanced at the area around her, which was just all forest. The trees seemed to get taller the further you go down, or maybe that was just her imagination taking over. She felt lost and unsafe as she whimpered softly and seemed to be shaking a little.
name: North       location: with his pack
currently observing his pack-mates
____________________________________________________________

North headed through the woods, going further and further away from his judgmental pack mates. The wolf heard paw-steps following him and turned his head just in time to see a smaller wolf. Rolling his eyes he stopped and the smaller wolf walked past him and then faced him; her expression blank. Much like his expression as he stared back at her. Her name was Zanna and she always seemed to associate herself with the larger white brute, maybe she liked him or maybe she just wanted someone to fix. Frankly, it was starting to piss him off and he just wanted her gone. "North, where are your going!?" she exclaimed curiously, not understanding why the new beta of her pack would just up and leave like that; did he not appreciate the alpha's choice? "Leave me alone Zanna." He replied stiffly, not really in the mood for her pestering; all he wanted was to get away from their overbearing stares.

North ignored her protests as he headed deeper and deeper into the woods, he growled as he realized she was indeed following him. As North walked the stench of sugar and water reached his sensitive nose and he stopped in his tracks. While doing this Zanna ran into him with a 'oomph.' "What is it? Wait. Do you---"she trailed off when she too detected the scent permeating the air around them. North thanked Fenrir that she had finally shut her trap; he was getting really tired of her constant questions. He tried to pinpoint the sugary scent but it was virtually impossible with all the others floating about. As he kept walking he realized that he had no idea where he was going until he heard a voice, the voice caused him to stop as a smaller canine came into view. "Hey! Who are you?" yelled Zanna which caused North to flinch and curl his lip in irritation.



bearkin

Warrior





Posts

: 54


Points

: 66


Reputation

: 0


Join date

: 2014-11-30


Age

: 22


Location

: wonderland



Leanna yawned a little as she walked up to a tree and shivered as she lay down.  A few minutes later she stood up and started to pace around as she thought about the type of situation she was in. 'okay okay. I'm okay. These shadows are a little bit scary, but they're just tress. Nothing bad is going to happen unless I let it happen.' She thought to herself as she whimpered softly and shivered a little as she was still a little bit scared. 'I need to survive on my own now. Day 1; the day I got lost and realized I need to find an out. That's a good title for day one.' She thought, and then she stepped forward and started to walk ahead of herself.

She walked, but then jumped back and whimpered slightly when the female wolf at her. She wanted to run, but didn't know where to go. If she did go somewhere, though, there was always the slight possibility that a human will find her and capture her. To her, there was nothing worse than being captured and thrown into some sort of jail cell. She believed that a dog didn't deserve that kind of treatment. She looked around to make sure that Zanna was talking to her before she hesitantly replied, "I… I seemed to have lost my way. Sorry… but I think my name is Leanna." She said quietly. The only reason why she said the words 'I think' before she answered the question was because she has heard many people call her many names such as puppy, girl, runt, and a bunch of other pet names that she couldn't recall at that moment. Though she guess that her name was Leanna, because that's what her humans used to call her.

She quietly walked over to them, "why do you yell so loudly? Surely it must hurt your throat just a little bit." She said quietly as she cocked her head to the side and looked up at her. "If you don't mind me asking… why do you even care if I'm in your forest? I'm sure you have more important things to worry about, and this forest is as much as mine as it is yours." She said silently, though she didn't sound confident in the words that she was saying at the moment. She was never really confident, but she did say what she believed from time to time.

---
Permissions in this forum:
You
cannot
reply to topics in this forum