This is for the characters that I have created over the years and are completely mine! The pictures are not mine, only the words.

Gold

Apprentice





Posts

: 40


Points

: 44


Reputation

: 0


Join date

: 2014-12-11


Age

: 30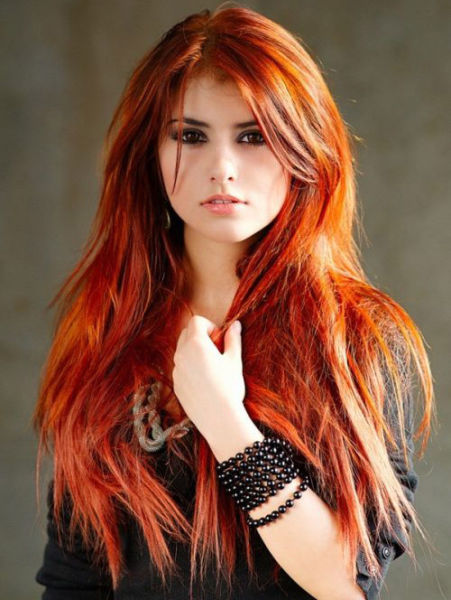 Dell Dayna Halton
Born May 21, 1994
Looks
That hair. That fiery, outstandingly red hair that looks like a mane. She keeps it in long layers that fall to the middle of her back. It's not one color either, it's mixes between scarlet and auburn and ginger. It is an almost perfect contrast to Dell's smooth, creamy pale skin thanks to her red head genetics. She lacks one thing almost every ginger has: freckles. Not a single dark speck marks her face, though she does have faint freckles over her shoulders. She has a set of pearly white teeth, braces in her middle school years helping to line them up in neat rows. Dell colors in her eyebrows to darken the lighter red hair and usually uses darker eye makeup around her dark brown eyes. Her eyes are big dark brown orbs that compliment her face nicely, as do her light pink lips. Dell is about 5'6'' and has the developed curves of a woman her age. She weighs about one hundred and seven pounds, though she doesn't have extremely slender arms or legs. Her voice is loud and somewhat deep for a woman, but she is able to hit high notes if she practices them. Her voice is a little rough, but not like she smokes eight packs a day. It's a pleasant sound, which explains why she's the lead singer for Co-Lapse.
Personality
Dell is very confident, sassy, and flirtatious. She knows what she wants when she wants it and once she gets her mind set on something there is no stopping her. Dell is also not afraid to use her looks to accomplish her goal. Past her cunning and flirting you can find her more nurturing side. The motherly affection she give some people also comes with the protectiveness of a mother bear. Her boldness only strengthens her sassy attitude, and if anyone tries to harm her friends there is no doubt she will cause trouble of some sort. Dell is extremely stubborn and usually rejects help from others, believing she can do everything by herself. This can sometimes lead to her overstressing and snapping at people, but she usually apologizes right away. She loves singing for the band and puts everything she has into her voice, so her voice usually gets scratchy after a few gigs. She sometimes has a very laid back and chill air about her, but it usually only shows around close fiends. Basically, Dell is a bold flirt around strangers, cool and collected around friends, and a defender of her best friends.
History
Dell is from a midsized town in Missouri, though some might say it was rather small. She had a great child hood, loving parents, and her two cute twin baby sisters, Railyn and Aislyn, were born in 2009. She had a fun time in high school, but she did get suspended at one point for breaking into the school at night during her junior year to put Co-Lapse posters throughout the main hallway. It wasn't hard for the principal to guess who did it. However, other than that, she was a good kid. Dell loves her two little sisters to death and can't wait to meet up with her family later in the tour so that she can see them again.
Back to her music career. She started singing in the church choir when she was seven, and has been singing since then. She was in the theatre program in high school, usually having a minor role at best since she wasn't that hot at dancing. She participated in talent shows in school and sang at county fairs across the state. Dell slowly developed her vocal range, hitting both low and high notes with enough practice. She tends to over work her vocal chords and usually looses her voice after a few gigs. She has loved singing with Co-Lapsed, and after the legal ordeal that went down she's just glad to be out of the woods and on the road with her friends again. She doesn't think it's going to be smooth sailing traveling with the other bands, but Dell also thinks it won't be awful.
Positive Traits
Bold, Protective, Independent, Passionate
Negative Traits
Flirty, Snarky, Very Stubborn
Favorites
Color: Burgundy
Candy: Twizzlers
Song: Lordvessle by Tanooki Suite
Movie: Spaghetti
Animal: Sparrow

Gold

Apprentice





Posts

: 40


Points

: 44


Reputation

: 0


Join date

: 2014-12-11


Age

: 30



Razzdess Ryley Rixx
Born on April 28, 1990
Looks
Razzdess is little. She stands at about 5'4 and weighs around 89lbs. She has long, inky, ebony hair to her butt that is straight as a pin. It compliments her lightly tanned skin well and makes her deep green eyes seem darker. Razz has a slim face, but she has a slim everything. Arms, legs, torso, you name it. Her eyes aren't very round, but they are rimmed with thick black lashes to make them seem wider than they are. The color of her eyes is very peculiar; Her eyes are such a deep, dark green that they are nearly black in the right lighting. When her hair is pulled back from her face, they look brighter an more of a shamrock green. Razzdess doesn't have any facial freckles, but a few singular dark spots do dot her chest, belly, and back. She has a sweet, soft voice of a Southern belle, but since she doesn't talk very much, not many people get to hear the lovely voice of this young lady. Razzle is almost always cold, so she's usually wearing a baggy sweater, thick tights or yoga pants, and comfy wool leg warmers over her shoes.
Personality
Razz is very shy. She blushes at everything and likes to keep quiet most of the time. She isn't very comfortable talking, communicating mostly through looks and gestures, but she will speak from time to time. Sometimes though, Razz will connect with one or two people an once she decides that they are nice enough to talk to, she becomes a quiet little tag along, comparable to a small puppy. The most often time to hear her sweet voice is right before a gig, but her vice isn't so sweet then. Once she gets in her pre-gig-zone she will snap orders left and right. Once the show starts though, she retreats to her corner with her old time sound board. It is not uncommon to see Razz with a grin on her face, clunky headphones over her ears, and her eyes closed as she [gently] rocks out in the back corner where all the wires come from. She is most comfortable in this corner where she has control of what's going on around her. See, Razz suffers from anxiety. If she gets freaked out or scared or stressed, she has an anxiety attack. Not an attack that just lasts for twenty minutes, no, her anxiety attacks have lasted hours before. Hours of puking, dry heaving, her heart about to beat out of her chest, and uncontrollable shaking. She doesn't take medication for it, although she should, because she fears she would lose her medicine during the tour or forget to take it. If you ever see Razz curled up somewhere dark, it's best to leave the poor shy girl alone. Another thing Razz suffers from is an eating disorder. She is plagued by anorexia. The disorder was likely brought about by not having any control over her anxiety or shyness. Having control over what she puts in her body has helped her in one way, but hurt her in several others. She doesn't physically look starved, but other symptoms of the mental disease have set in.
History
Razz is from a little town in Georgia just eat of Savannah. She is from a family of divorced parents, an being an only child, was fought over and used as a pawn for several years between the two bickering ex-spouses. This most likely brought on her anxiety. She was always a quiet child, liking to play by herself rather than with other children. She was always told how to be polite, taught the correct etiquette, and was raised to be a sweet little Southern belle. You can imagine her parent's horror when they discovered she was going to college to work in theatre production, and later go on tour with a rock band after obtaining her degree early thanks to duel enrollment classes taken in high school. She left Georgia to go to college up north to obtain her degree in back stage production. She is now skilled in music and sound, lighting, and make up. After getting a job with a record company, she found out she was going to be in charge of sound for not just one band, but three. She was terrified and excited at the same time. This was her chance to see the country, but that would also mean moving from place to place with many people she didn't know and being put under who knows how much stress. She weighed the pros and cons, and soon left with Co-Lapse for their first tour.
Positive Traits
Sweet, Kind, Understanding, Doesn't judge others
Negative Traits
Shy, Doesn't talk much, Anxiety,
Favorites
Color:
Green
Candy:
Sour candy
Song:
Movie:
Tie between Gone With The Wind and the Harry Potter series
Food:
Chicken Pot Pie
Animal:
Owls

Gold

Apprentice





Posts

: 40


Points

: 44


Reputation

: 0


Join date

: 2014-12-11


Age

: 30



Ethan Jay Hamilton
Born July 12th, 1988
Looks
Ethan is a broad shouldered guy that stands at 5'11'' and weighs around 153lbs. He has strong arms and a toned stomach, but only the faint outline of his abdominal muscles can be seen. His skin is tanned and is occupied by several tattoos: A pair of light pink wings on the inside of his left wrist and
PersonalityHistory
Ethan was born in a small town near West Palm Beach, Florida. He was raised on the typical farm most people think of. He was on the middle school and high school baseball teams, played in the band, dated a few cheerleaders, failed a math quiz or two, and was caught kissing at the movies. Ethan had a normal childhood, and he loved it.
He got a full ride baseball scholarship to Florida State University. While he was there he majored in agribusiness and minored in music management. After graduating he still worked on the family farm to help his parents and also worked part time at a record company in West Palm Beach. He interned a few times, going to different events in different states with the company he worked for until they let him manage a concert all by himself, where a more popular record company offered him job. Several years later he was assigned tour manger for the triple band tour, even though it had started out as a double band tour.
Ethan's life took dramatic turn in the past few monthes. He was going to marry a girl he had known and loved for years after they found out she was carrying his child. The young couple was ecstatic after finding out the child would be a girl. However, the young woman had a sudden miscarriage and was rushed to the hospital. She broke down after finding out that the baby was gone. She broke off the engagement with Ethan, leaving him alone. Since then, Ethan hasn't pursued a relationship an has all but thrown himself into his work.
Other

Gold

Apprentice





Posts

: 40


Points

: 44


Reputation

: 0


Join date

: 2014-12-11


Age

: 30




---
Permissions in this forum:
You
cannot
reply to topics in this forum