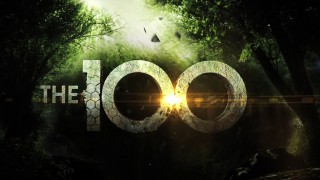 A nuclear war destroyed earth about a 100 years ago. The rest of the human race were sent into space in different space stations. As the years went by the stations decided to come together and call themselves the ark. Due to the limited resources people could only have one child and were given small portions of rations. Even the petty crimes were sentenced to death unless you were under eighteen. Then you'd be locked in a solitary cell. The plan was to wait a 100 years until going back to earth to check if it was survivable. However, the ark was quickly running out of air causing them to send 100 children prisoners to the ground. Only being 97 years nobody knew what the earth looked, smelled, or even what it felt like. The 100 teenagers and kids were sent to earth and as you can imagine it ended in utter chaos. Anarchy broke out with only one ending, violence. Few people stood up and decided there must be rules. For people were killing each other and things weren't how they should be. As the peace grew the teens realized they weren't alone. Apparently people had survived the nuclear war and they are called the grounders. The only problem is they are angry that the teens arrived because they see them as a threat. What are these teens suppose to do when the communication link between the ark and them was knocked out by the landing? No way to contact the ark. Not to mention the two people who stood up and took the leader positions are constantly at each other's throats.

       Bellamy has gone through hell to get to Earth all for what? His sister, Octavia. On the ark they make it pretty clear you can only have one child, but Bellamy's mother broke this major rule. Secretly she kept Octavia along with the help of Bellamy. In fact, Bellamy was the person who watched over Octavia the most since his mother worked late. When Octavia was only fourteen, Bellamy wanted to surprise her with a masquerade dance. However, a solar flare drill occured causing Octavia to be revealed. She was captured and their mother was executed for her crimes of having a second child and secretly hiding her.

       Clarke lost her father when she was only fifteen years old due to the fact that her own mother turned him in for treason. For the longest time Clarke though her best friend, Wells told on her father until it was too late. Just as she forgave Wells once she realized the truth Wells was killed in a freak accident. Clarke is the main and best medic out of the hundred because she wanted to follow in her mother's career foot steps before she knew the truth.

       Octavia has always been a carefree girl with a will stronger than diamonds. Practically living in secret and solitary her entire life she finally feels free down on Earth. Highly rebellious she starts flirting with any guy she can find since she has had limited human contact. However, a grounder named Lincoln has seemed to steal her heart.

vampy9001

Training Target





Posts

: 10


Points

: 14


Reputation

: 0


Join date

: 2014-11-29



It had been a few weeks since the hundred was sent to Earth from The Ark. Already we have discovered that we are not alone. There are people inhabiting this radiation laced Earth. My people call them Grounders and they are completely ruthless. It's like they aren't even human or at least they've lost their humanity along the way. They have attacked our people countless times and have even killed some of our own without a second thought. However, this week has been pretty quiet which terrorified me to death. What if they were planning an attack to butcher the rest of us in one sitting? Clearing my mind I emerged from the dropship examining the horizon. It was just past dawn and not many people were awake at this time. Only those who were watching the perimeter of our camp and a select few of early birds.

"Morning, Princess" An unforgettable voice exclaimed coming up besides me. Rolling my eyes at the unwanted, but sticky nickname, I turned to face Bellamy. His hair was a distraught mop that made it very likely he woke up like that. However, if anyone could pull off the messy hair look it was Bellamy. It seemed like every girl in camp wanted to get in his pants, everyone except me. I just couldn't see what all these other girls were seeing. To me he seemed like a dick who played every girl he came in contact with, but the people listened to him so I tried to work with him.

"Morning, Bellamy" I muttered in an attempt to give a polite gesture.

"So what's the plan for today?" Bellamy asked with curiousity in his eyes. Thinking about the question I, too, wondered what today had instore. I knew we had to figure out something to do with the grounders before it was too late, but I wasn't for sure what yet.

"You wouldn't like it" I stated out loud already knowing his answer to the plan I haven't revealed yet.

"Hmmm...Let's see. You want to sleep with me?" His grin bugged me, "Oh, wait! I would like that" Of course he would say something like that. Typical Bellamy. However, it did draw up a slight smirk from me before I shook my head.

"Don't flatter yourself, Bell" I stated going back to my serious, sophisticated self, "I want to make peace with the grounders: I blurted out figuring there's no need in sugarcoating the truth to the plan I wanted to uphold. Bellamy's face went from playful to serious in a matter of seconds.

"You've got to be kidding me. Clarke, they've killed dozens of us and you want to make friends?!" Bellamy practically yelled so people could hear. Good thing most of the people were still asleep or too far away to make out the words coming out of our mouths.

"What do you want me to do? I can't just sit around and watch my people die one by one. We are getting low on food and every time we send out a hunting party they don't return..We need food, Bell," I snapped back even though I was still questioning my choice.

"We could fight.."

"You don't think I've already thought about that?" I yelled wondering if Bellamy seriously just wanted to see me get angry. Of course fighting was out of the question. The grounders were far too agile and outnumbered us for us to fight back. Plus if we fought back it would indicate we wanted a war which was far from what I wanted. The best option was to make peace and hope for the best.

"Then you know its a better choice than trying to make friends. Did you ever think they don't want to be friends? I mean killing our people is a pretty big sign stating they don't want peace" Bellamy did have a point, but I felt like it was our only option that wouldn't end in bloodshed.

"Either you're with me or without me, but I'm leaving tomorrow at dawn," I was done with this conversation. More people began to wake up and I really didn't feel like causing a scene. Walking away from Bellamy I felt his arm grasp my arm causing me to face him again.

"Are you sure about this?" He was completely serious which made me second guess myself. However, I nodded slowly with a reassuring smile as I looked dead straight into Bellamy's milky brown eyes. Bellamy sighed before releasing his grip, "I'll get some guns just in case. We'll probably want to bring a few people along with."

"I know this is asking a lot, but Octav---" He cut me off before I could finish.

"No! Absolutely not," He stated without hearing what I had to say. I'm pretty sure all he heard was his sister's name.

"She knows the land better than any of us. I know you disapprove of her Grounder relationship, but I think we could use her intell," I knew it was a longshot, but I had to try. Octavia did know most of the land outside of our walls and she's actually been in the village of the Grounders.

"I. Said. No." Well, it was worth a try I guess.

"Fine, but if we get lost it's on you" I smirked before heading to the food shack for some breakfast leaving Bellamy to think about what he just signed up for.

vampy9001

Training Target





Posts

: 10


Points

: 14


Reputation

: 0


Join date

: 2014-11-29



The morning sunlight washed into my tent I shared with Raven. Neither of us really wanted to share a tent, but other people needed a place to sleep. Raven wasn't necessarily my friend and I didn't really know her, but I respected her space. As I arose from a good night's sleep I noticed Raven was already gone leaving her bed in an utter mess. I figured she went to go make bullets or some mechanical thing I wouldn't have any idea about. Rolling out of bed with a slight groan of laziness I walked over to the basket where I kept a few extra clothes my brother managed to give me from those who died during our duration on Earth. It sounds a little morbid, wearing dead people's clothes, but I was getting a fifthy feeling wearing the same clothes everyday. I stripped down to nothing, but my undergardments. Grabbing the clean pants inside of the basket I struggled to put them on. The jeans were at least a size too small, probably two. As I struggled someone barged right into my tent catching me off guard.

"Oct---Oh my gosh.. I'm soo sorry, I..I didn't know..umm" It was Jasper, go figure. He was frantically turning around and knocking things over as he covered his eyes with his hand. Completely pulling the pants up I grabbed a shirt and threw it on.

"Jasper...It's fine..I'm dress.." He was still knowing things over trying to find his way out of my tent. "JASPER!" I yelled causing his to fall on his butt before he looked my way.

"I should leave.." He said once he saw the mess he'd made. I just giggled to myself as he exited my tent in such a hurry. It seemed like ever since we'd arrived on Earth he's been severely crushing on me. As flattering as that is my heart already belonged to someone; a grounder named Lincoln who my brother already highly disapproves. However, I can't let him control every aspect of my life.

I french braided a strand of my darkening brown hair, a little perk I learned from the grounders. Feeling satisfied with the braid I emerged from my tent gazing around at the scenery I now called home. My gaze rested on my brother and Clarke as they argued about something unknown. Those two had been at each other's throats since the ark sent us down here to die. Before Bellamy was able to see me I sneaked over to the emergency exit tunnel. With a sly smirk on my face I raced through the tunnel until I came out into the forest area. I knew Bellamy would probably freak once he found out I wasn't in camp, but I had to see Lincoln. It'd been a week since I snuck out last and it was practically killing my being away from him. He saved my life countless times and I trusted him like I trust my brother.

Carefully I followed the pathway I had memorized in my head until I arrived at the meeting spot Lincoln and I shared. As time went by I started to get nervous because Lincoln hadn't showed up yet. Did he forget? Or worse; did he get captured? Just as I started to majorly worry I felt hands on my waist causing me to turn around. Ready to attack whomever touched me, but once I saw who it was I smiled.

"Lincoln!" My eyes sparkled at the sound of his name off of my lips. I threw my arms around him pulling his closer to me. His warming embrace gave me hope especially when he looked at me with his compassionate, brown eyes. "I missed you." I muttered before feeling the comfort of his lips on mine.

"I missed you, too" He smiled against my lips before kissing me a few seconds longer. Something about the kiss was off though. It was like he kissed me like he'd never see me again. Backing away slightly I gazed at him with a questioning look.

"What's wrong?" Lincoln asked looking confused.

"I could ask you the same question.." I muttered under my breath just loud enough to audible. "What are you not telling me?" I asked with curiosity and hurt in my tone. I could hear a low sigh come from deep within Lincoln's throat. I could tell he had something on his mind that was eating him from the inside out. Scratching his head as he paced around me before he finally faced me.

"I'm leaving.." Was all he said.

"What?" Surprise hit me hard, "What do you mean you're leaving?" Rage started to boil up as I tried to comprehend what exactly Lincoln was telling me.

"My village doesn't really agree with my relationship with a sky person..If they catch me again.." He paused, but I already knew what he was going to say. Each one of the grounders in his village would take a turn stabbing him with a dagger.

"I know.." I muttered as tears welled up in my eyes daring to fall.

"I want you to come with me, Octavia.." This also caught me off guard. How was I supose to just leave my brother and the people I cared about? Especially since I don't know if I'll ever come back. What if something happens to my brother while I'm away and I don't even know about it until I return--if I return? I don't think I could live with myself if that ever happened. I also don't know if I can go about my life without Lincoln, the man I loved. Now my tears were falling and at an alarming rate.

"I..I can't.." I said so quietly I'm pretty sure Lincoln barely heard. He nodded in understanding as if he expected me to say that. "You have to know this..this isn't an easy decision" I ranted angrily because he practically threw this at me. Calmly he wrapped his arms around me just for me to push him away. "No. You can't just do that. You can't spring this huge surprise on me and then expect me to crumple just because you want me to." I was starting to yell frantically at him. How could he do this?

"Octav--" I cut him off before he could fully say my name.

"I said don't." With that I turned around and started walking back to camp with tears still streaming down my face. Lincoln didn't dare follow me because he knew it would only make matters worse. Once I got back to camp I tried to avoid getting seen by my brother. He would only tell me I told you so. He would tell me how he knew I shouldn't have trusted a grounder and then he'd take a bunch of men to find Lincoln so he could kill him. I didn't want that. Even if Lincoln did make me upset it didn't mean I wanted him dead. I still loved him.

Back in my tent I sat down on my make-shift bed all alone in a puddle of tears and self-pity. Raven still was working on whatever Bellamy and Clarke had her working on. Thank god because I don't know if I could resist punching her in the throat if she tried to say anything to me about what happened. Just then there was a sound at the sheet I called a door.

"It's Jasper" The person called out reminding me of what happened earlier this morning. I laughed slightly before continuing crying.

"Right now's not really a good time.." I replied rolling onto my side facing away from the doorway.

"Come on Octavia..it can't be worse than this morning" Jasper thought about walking in before something crossed his mind, "Oh my gosh, you're not naked are you? If you are I'll defiantly come back later.." He always knew how to make me grin even when I was a mess like I was now.

"No, Jasper. I'm not naked. I'm fully clothed" I yelled out with a slight giggle. The tears had stopped, but my heart still ached. Figuring it was a good time Jasper barged right in causing me to sit straight up and try to wipe the teary mess off of my face.

"What happened?" Obviously he noticed how upset I was. "Are you alright?"

"I'm fine. Just promise me you won't tell Bell," I grabbed the front of Jasper's shirt as if I was threatening him. If you look at it I kind of was threatening him.

"I promise..just tell me what happened" Jasper promised allowing me to release my grip and sit back down on my bed. Patting the corner I then filled in what had happened to me that caused me to be irrational and completely upset. For a while Jasper sat there comforting me and telling me it was his loss for leaving such a beautiful girl. Jasper was an incredible guy, but I really didn't see him as a love interest kind of way.

"Thank you Jasper. I really needed a friend" I said with a weak smile as I laid my head on his shoulder.

vampy9001

Training Target





Posts

: 10


Points

: 14


Reputation

: 0


Join date

: 2014-11-29



       "Just breathe, the baby is almost here," A comforting voice told Camre who was currently having her first and only child. The pregnancy turned out to be an accident, but luckily she was above the age of eighteen. The Ark forbids teenagers under the age of eighteen to have children and the ones who disobeyed were imprisoned until their eighteenth birthday. Then they would go through a trial with only one ending, death.

       "Breathe, breathe. You're almost there," The medic reassured as the newly born baby girl was being born. Camre tried her best to obey the medic's words, but she was in no way ready to be a mother. As time went by the baby was born averting the medic's attention as she made sure the baby was healthy. The other medics and nurses watched over Camre as they waited for the rest of the birthing process to take place. However, what happened next was far from what they had planned.

       "Abby?!" One of the medics called out to the doctor who was checking over the baby. Abby quickly turned with a confused gaze. "There's another baby.." The medic informed Abby causing the whole room to go into utter silence. Even Camre's cries substained and it looked as if she was about to pass out.

       "Doctor Jackson, aid this baby" Abby ordered as she switched spots with Doctor Jackson. It was against the laws of The Ark to have two children, but nobody has ever had twins. Abby wanted to see where this would lead. After another half hour or so of painstaking labor both babies had been born. Camre was able to rest as Abby was forced to report the twin's birth. This should have never happened. Didn't Camre ever have an ultrasound? So many questions were rushing through Doctor Abby Griffin's head that she was starting to get a headache.

       Meanwhile Camre was lying in a hospital bed with both babies in their own mini-crib like beds. For the first time in her life Camre had never been so in love. Not even with the babies' father who no longer wanted anything to do with Camre.

       "May I hold them?" Camre asked in a tired out murmur. The nurse that was watching over her nodded allowing her to hold one baby at a time. The first baby Camre held was a beautiful young girl with peach fuzz on top of her head. Instantly the new mother knew the child would be named Avalon. The tiny bundle in the next glass mini-crib started to cry out of jealousy. Switching the babies so Camre could hold her son who was completely bald and chubby. Camre giggled a little bit before planting a tiny kiss on the newborn's head.

       "You're name's Arthur" Camre exclaimed snuggling close to the baby trying to comfort away the cries. For a split moment everything was perfect. As Camre admired her two lovely children who she had already become highly attatched to, Abby was speaking with the chancellor.

       "What are we suppose to do?" Abby asked desperately hoping chancellor Jaha would make an exception to this young mother and her children. She knew deep down Jaha was a compassionate man who was misunderstood a lot of times. Kane was standing by waiting for an opportunity to objectify his opinion on the matter.

       "This should have never happened. What about the set ultrasound dates every pregnant woman is required to have?" Chancellor Jaha asked feeling like he was being backed into a corner. Of course he didn't want to float the mother or kill the children, but if he didn't his power would be challenged.

       "You know what has to happen.." Kane put in getting a dirty glare from Abby as Jaha thought about the situation.

       "Abby please allow Kane and I to talk about this.." Jaha said with no emotion whatsoever as Abby nodded respectfully seeing his don't question my authority gaze. Abby left the room leaving Kane with a smug grin as if he had won the argument. Impatiently Abby waited outside the room for the verdict for the poor woman who gave birth to the twins. Within a few minutes Kane marched out and pushed passed Abby heading towards the hospital wing where the newborns and newly mothers were kept.

       "Kane. What happened in there?" Abby asked quizzically as she jogged next to him just to keep up. Kane didn't even look at her, but signaled for a few guards to follow him. "No, no. You can't do this. She had no control over this," The tone of Abby's voice cracked as she desperately tried to save this mother and twins. Kane didn't even look at the distressed Abby as he emerged into the first time mother's room. Camre gazed up with confusion as she held onto her son with a tight grip as if he would fly away.

       "Choose." Was all Kane said as Abby walked out of the room not wanting to see the outcome of this. Camre gazed straight into Kane's eyes as she tilted her head in even more confusion.

       "What?" She asked, shifting uncomfortably.

       "Choose or I will forced to execute you," Kane stated not showing any emotion, not even a little fraction of guilt. It soon clicked in Camre's brain causing her to burst into tears almost instantly. She shook her head violently and held Arthur closer than ever before.

       "No, no, no...you can't do this.." Clearly Camre was upset, "You can't expect me to choose between my children. I just..I just can't" The mother shouted and pleaded as Kane signalled the guards. The baby was wrenched away from the mother causing a rancid screech burst out of Camre. The nurses sedated Camre as she desperately tried to scramble over to her now crying children.

       Kane nodded at the other guard who was in charge of taking care of the babies. However, Abby decided to intervene once again. She grabbed Kane's arm pulling him to face her so she could show him how upset this made her.

       "Let me take the children...at least until their old enough to be put into solitary confinement," Abby pleaded not wanting to see two newborns put to death over something they had no control over.

       "You know I can't authorize that" Kane stated, but Abby wasn't about to let these two adorable babies die. Not if she had anything to do with it.

       "My neighbors..the wife can't concieve...she could take one and I'm sure we can find another family for the other," Abby suggested excitedly as if she solved world hunger. Kane gave her a dangerous glare, but nodded in agreement. It was a solution for the children at least. The mother was a different story. Abby was afraid she wouldn't be able to help Camre, but at least the children would be spared.

       "They must never find out about each other..." Kane stated as he signaled the guard to follow him instead of 'taking care' of the children. Relief sprung over Abby as she wlked over to the babies who were in tears. Stroking the baby girl's cheek she turned to the nurse, curiously. Kane had already left the room like it would be toxic for him to stay.

       "Did the mother name them?" If she had Abby would make sure they kept the names. Or at least she would try to. The nurse nodded before revealing both the of the babies' names. Avalon. Arthur.  

vampy9001

Training Target





Posts

: 10


Points

: 14


Reputation

: 0


Join date

: 2014-11-29




---
Permissions in this forum:
You
cannot
reply to topics in this forum