a 1x1 between myself and looncall.
maturity content is bound to be ahead.
Equestrian riders and their horses think they are best. Whether it's in show jumping, cross country, dressage, track racing, ect. Some riders take the risk of trying for the world famous Olympics, and take the test to see if they really are the best. Some will fail, and others will succeed. Do you have what it takes to rise above the rest?

Show jumping and cross-country is certainly one of the most famous disciplines in the Olympics. Therefore, isn't harder to be the best. Both riders and horses will train extra hard to prove they are worthy to have a spot on the Equestrian Olympic team. Being the winner is entirely up to you. Both friendships and hatred is bound to form, and maybe romance will bloom on this adventure for horse and rider. But one thing is for sure - competition comes first.

bby shai,

Training Target





Posts

: 4


Points

: 8


Reputation

: 0


Join date

: 2014-11-29


Location

: wonderland



Full Name;; Andrew Colton Stormfeld
Nickname;; Andy
Age;; 19
Birthdate;; February 3rd
Gender;; Male
Horses;; My Cabbages & Bastille
Pets;; Atlas

Appearance;; Andy doesn't look like someone that belongs in the equestrian world. He has a relatively light build, leanly muscled and tall, standing at 6'. He has broad shoulders but a rather narrow waist. He has a rather fierce gaze due to his intense hazel eyes and pale skin despite being outside quite a bit. Andy has tattoo sleeves up both arms as well as one of a wolf leaping on his back. On his left shoulder blade is another tattoo, this one of a horseshoe. Inside the horseshoe are two names, belonging to his former and current horse respectively. His dark brown hair is kept quite short along the sides and a little longer on the top, so that it can stick up but not fall into his eyes. He keeps himself clean-shaven and finds growing facial hair difficult, though he occasionally has a faint five o'clock shadow. He usually has a scowl on his face and has multiple scars along his fists from picking fights and punching walls.

Personality;; Andy has a rather gruff exterior and is a little on the hot-headed side. His business is his own and he'd rather keep it that way. He is rather independent, finding it exceedingly difficult to accept help from others. He has a view that it's him against the world and it'll take a lot of convincing to make him think otherwise due to his pride. Deep down, Andy isn't all that bad. Half of his personality is more of a front to keep people from getting too close to him, and half of that is just that he doesn't actually like people all that much. He has a few violent tendencies but can occasionally be talked out of doing anything drastic. He has a difficult time reining his anger in but doesn't truly wish to hurt anyone. When stressed out, he smokes cigarettes, tends to snap at others, and has some rather violent tendencies. He is openly a softy when it comes to his mare, Cabbage. He almost seems to melt around her and he speaks gently, moves calmly. It's almost like he becomes a new person for his mare.

History;; Andy grew up in South Carolina with his mother. His father had walked out on him at a young age and never bothered to be part of his life. He eventually tried to get in contact with Andy, but Andy shunned him, deciding that he didn't need the man in his life. He and his mother moved quite a bit and Andy started working as soon as he was old enough to help his mother pay the bills. He somehow wound up, at the age of fifteen, working with a broken mare, that he later was allowed to keep. Only a year into working with her, the mare (named Ladybird), colicked badly and was put down while he was out of town. He was, of course, devastated, because he never got to say goodbye to his wonderful mare. Eventually, he got his current horse, My Cabbages, and began working with her, for she'd also had a troubled past and that's where his talents seemed to lie. Having very little that was permanent in his life, and lacking a father figure, Andy fell into the wrong sort of crowd, and ran into problems with the law on multiple occasions. Two charges of assault have stuck so far, and a third complaint was filed but later removed. Through it all, he has never shown ill temper toward Cabbage, though. Instead, he put more time and energy into her training. The two bonded over the next three years, reaching shows of a more national level. Just months ago, he rescued a dog named Atlas, a blue merle German Shepherd mix off of the streets. He also made a recent purchase in Bastille, wanting to try another sport out aside from dressage.
Name;; My Cabbages
Barn Name;; Cabbage
Age;; 8
Gender;; Mare
Breed;; Appaloosa

Appearance;; Cabbage has the typical somewhat stocky build of an Appaloosa, though she is a bit more slight due to her being a mare. She is considered a brown leopard appaloosa and stands at 16 hands at the withers. Her coat is mainly a pale gray with slightly darker ticking here and there. She has multiple black spots of various sizes across her body, as well as the typical dark and roany 'v' on her face like many other appaloosas have. Her legs are all darkened to smoke and she has a dark muzzle, ears, and bit around the eyes. She has one sock and sand-colored hooves. Her mane and tail are a sort of salt-and-pepper gray coloring and she has dark eyes with the whites showing often.

Personality;;Cabbage is a surprisingly gentle and calm mare, despite all that she has gone through. She is purely a lover and is virtually bombproof thanks to Andy's hard work. She enjoys a good cuddling session with her human and is very friendly with other horses. She doesn't enjoy water very much, and will likely refuse to cross any streams, or enter a body of water unless her life depends on it. Due to this fear of water, as well as her stockier build, it was decided she would be decidedly bad at cross-country, so she was never tried in that. She is only ever really moody when she's tired or doesn't feel well, or if she's on a heat cycle, like most mares would be. She may grow nippy and irritable, less welcoming of being touched during these time periods. As a result, Andy has considered hormone suppressants to help control this.

History;; Cabbage had a bit of a rough history in her very early years. She was trained up and sold as a three year old to a man and his daughter. Unfortunately, the daughter was very foolish and either didn't like Cabbage, or didn't understand that what she was doing was wrong. Either way, Cabbage was ruined of riding and fell into a state of neglect. She grew sick and began to refuse to leave her stall. She began to bite and kick but even that ceased and all fight eventually left, leaving her empty. Eventually, she was resold and wound up at the barn that Andy had begun to work at. She was put into his care and over the course of the three years, she blossomed into a beautiful, gentle horse that could be ridden with ease. Since then, Andy has been training and competing her in dressage. Despite her relatively stocky build, she excels in dressage. She has been knocking down competition like mad and has finally reached national levels.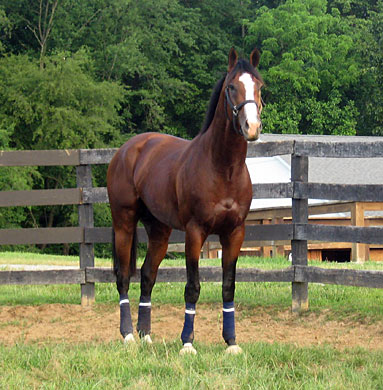 Name;; Bastille
Barn Name;; Bass
Age;; 6 years old
Gender;; Gelding
Breed;; Thoroughbred

Appearance;; Bastille stands at 17 hands even, quite the big boy, and his broad body only emphasizes his height. He is quite muscular and has strong legs and hooves. His coat is a vivid bay, perhaps called cherry bay or blood bay due to the red tint to his coat. He has three socks and a wide blaze down his face. He has the stereotypical bay black points to his legs, as well as a slightly darkened muzzle, hint of dark around his eyes, and ear tips. He has a black mane and tail, both of which often catch burrs and twigs from the paddocks unless cut short, which he seems to prefer.

Personality;; Bastille is a rather mischievous horse, and has a tendency to pick up anything that he can easily pick up. Either he hides things in his stall, or throws them down the aisle to get a little attention. He isn't particularly mean, but still has a tendency to grow nippy now and then. It isn't really his intention to hurt anyone, but that's the easiest way for him to display his displeasure for something. He was gelded late, giving him time to develop a bit of a stallion persona, so he is rather highstrung, and occasionally, things spook him. Dangling ropes and anything that flaps in the wind also startles him, and he may rear up. He is rather intelligent and has a tendency to try to escape from any enclosure he is in, but only after he has been left alone for a few hours. He very rarely succeeds but causes trouble when he does manage to get out, trying to free his companion and raid the feed room. He doesn't mind being petted, and in fact, loves to have the spot between his ears and eyes scratched, as well as his withers, but isn't fond of having his head held in a hug. He hates having his head enclosed in that manner. He didn't enjoy racing much, but has put his energy into cross-country with vigor. He seems to like Andy, but he doesn't have that same bond that Andy has with Cabbage.

History;; Bastille was born at a high-end racing facility but sadly did not meet the expectations placed on him. He never made it past allowance races and was passed around a few times through claiming races, as well. Ultimately, at age five, it was decided that he was to be retired and tried in various other sports. He didn't have the focus for dressage and was too energetic to be a lesson horse after he was retrained for riding. He proved to have a scopey jump and it was decided that he'd try cross-country. He seems to enjoy his work quite a bit but may grow bored now and then. Andy only recently purchased Bastille and is still getting to know him, but the gelding has shown some talent.
Last edited by Fool on the Hill on Tue Dec 16, 2014 2:52 am; edited 3 times in total

Fool on the Hill

Master





Posts

: 233


Points

: 247


Reputation

: 2


Join date

: 2014-11-29


Age

: 23


Location

: The Iron Throne



➤ BASICS
full name:
Shayenne Mae Calibre
preferred:
Shayenne or Shai
other titles:
bby Shai, Shayenne Mae
gender:
Female
age:
Nineteen Years [19]
birth date:
July 4th [4th of July]
birth place:
Radford, Virginia
➤ PERSONAL
personality:
at first glance, shai seems like a small and innocent soul but there's so much more to her. first impression she's usually as sweet and friendly as she can be, unless she come off as rude or something to her first. she knows to show respect and be polite. although she doesn't take crap from anyone and isn't afraid to throw the first punch if needed. she has a mind of her own and isn't about to let someone disrespect her. she's daring and brave, never giving up with a wild imagination. this blonde is doing some of the craziest things with her horses. shai has learned to be patient and determined. she can become a bit mischievous and loud at times. shayenne has her way around things, easily getting herself out of sticky situations. but shai is a pretty short tempered and quite the hot head, easily ticked off so be careful with her. shai is neither clumsy or swift, she's kinda inbetween. she's also extremely stubborn, and sarcasm is like her second language.
history:
shayenne was born and raised in radford, Virginia. she was born into a pair of horse freaks, her home was actually a horse stable owned by her parents called foxridge stables. her father was a talented horse trainer and her mother was an equestrian star. so you can expect she's loved horses for as long as she could remember. her father taught her everything she needed to know about horses. it wasn't a surprise when shai became daddy's girl. actually, her mother wasn't always there for as much as her father was. shayenne didn't even own a horse until the age of seventeen. before that, she mainly worked with horses around her stables. she trained and competed. at the age of seventeen, she received callie as a birthday gift. she didn't have to work much with callie for the mare was already amazing. she got Alfie at the age of eighteen. he was unbroken stallion, a new challenge for her. it took awhile before she was even able to get a saddle on him. he is still quite the handful but now competes in cross country.
➤ APPEARANCE
hair color:
dirty blonde
eye color:
baby blue
skin tone:
light tan
height:
5"5
body type:
small&slim
piercings:
ear lobes, left nostril, & belly button
tattoos:
a few
scars:
deep scar across left thigh from failure of a jump
show name:
California Tricks
barn name:
Callie
other titles:
Calliers
gender:
Mare
age:
Eight Years [8]
breed:
Irish Sport Horse
discipline:
Show Jumping
personality:
Callie is just the total sweetheart out of Shayenne's pair. She's sweet and lovable, how can you not love her? She loves just about everybody and excited to meet new people - unlike Alfie. She's determined to go beyond the limits and works hard. Callie sure is some amazing horse, according to Shayenne and a few others. In most situations Callie is pretty good at listening and responding quickly. Callie is one of those horses that are quite easy to train, not very many troubles will be made. For the most part, Callie is pretty good with other horses. Unless other horse causes harm to her, she's pretty calm with them. The only horse that is totally wild and that she's been able to handle is Alfie, but that's because shes had to live with him. Shayenne has turned Callie into a gentle mare, good with kids and anything of the above. Although she can become a bit sassy and pushy, making sure that it's clear she's boss. She can tend to get a bit playful and such in the pastures, and also likes to become the leader of the herd. She is queen bee and she knows it, sometimes being a show off. She is usually pretty patient, but can be a bit stubborn.
show name:
Mask of Sanity
barn name:
Alfie
other titles:
Buggers
gender:
Stallion
age:
Five Years [5]
breed:
Selle Français x Irish Sport Horse
discipline:
Cross-Country
personality:
Alfie is the complete opposite of his lovely friend Callie. Shayenne actually likes to think of him as the devil in disguise. He is just a little stallion waiting for trouble. Alfie is quite the handful, but Shai wouldn't trade him for the world. Most people think that Shai is the only person who can actually control him, and sometimes she thinks it to. Even when Shayenne is in the saddle, he acts wild - occasionally. He has gotten way better over the time that Shai has worked with him, but he still has that wild side to him. Shayenne sometimes can't keep her eyes off him for even a second. She refuses to trust him in the same area of other horses, since he doesn't get along with them very well - especially other stallions. He likes to try and be boss of everything. He hates being told what to do, and is quite the impatient one. He is constantly stirring up trouble, big or small. Trust me, most people would think it was completely idiotic to take such a horse on the Olympic team. But Shayenne has different thoughts about him. Underneath all the naughtiness, he is an amazing jumper - especially in Cross-Country. Even though he is easily spooked, he has great agility. He absolutely loves being taken out on the Cross-Country courses.
[[ sorry for the lack of detail, but I'm super tired right now. xD and I won't be active much tomorrow since I'm suppose to be spending the day with some friends and my boyfriend.

bby shai,

Training Target





Posts

: 4


Points

: 8


Reputation

: 0


Join date

: 2014-11-29


Location

: wonderland



"Rise 'n shine, sleepyhead."

A soft, sleepy nicker rose from the spotted form sprawled out in the shavings of a large stall, before the occupant, an Appaloosa, lifted her head, and eventually, hauled herself up. She was relatively squat, stockily-built like any of her breed, but somehow refined just the same. She really didn't look like she belonged in stables as fine as the one she was currently residing at, but she was. The mare had done great things already, and was being aimed toward even bigger things if all went according to plan.

A brass nameplate was tacked to the mare's door, with the words My Cabbages engraved into the surface. The brown leopard Appaloosa, under the barn name of 'Cabbage', extended her somewhat blocky head, pushing into a young man's chest. Automatically, his arms came up, wrapping lightly around her head. He didn't look like he belonged in this fancy barn either, due in part to the tattoo sleeves up both of his arms, and the typically closed-off expression that the young man wore.

Andrew Stormfeld, or Andy, to anyone that got to know him, did belong though. He might be reserved and almost stand-offish around people, but he opened up and relaxed around horses. It was immediately obvious to anyone that the tough guy with his tattoos and intimidating glare was actually a softy, but only when it came to something he loved. He had a tight bond with the mare with the adorable name and the very feminine personality. He shamelessly kissed her nose, wrapped tattooed arms around her head and neck, and deftly braided her mane on show days.

A crash in another stall nearby brought both Andy and Cabbage's heads up and Andy let out a quiet sigh as a white-blazed face appeared over another stall door. The sound had been caused by the Thoroughbred gelding as he dropped his empty feed bucket over the stall door. God, help me. Andy gave Cabbage a final pat and strode toward the gelding's stall, stooping to pick up the bucket. "You need to learn to behave, sir. I'll have none of that." The words had never meant anything to the bay horse before, and that wasn't about to change. This became immediately evident as he tried to take the bucket back from Andy, lips extended toward the handle.

Bastille, according to his nameplate, was definitely a quirky horse. Andy had never met a horse as odd as him, and he hoped never to do so again. The bay Thoroughbred was an OTTB, an off-track Thoroughbred. He'd retired from racing just a few short years ago after it became evident that he held no interest in racing whatsoever. He seemed to have pulled a few pages from Mad Moose's book. Mad Moose was a steeplechase horse that had simply refused to start when a race began, digging his hooves in and ignoring his jockey's urge to move. He'd eventually been retired. Bastille modeled himself in much the same way. Thus, he'd been retired and, because he'd been nowhere near successful, he was sold off.

Andy eventually wound up purchasing him, after deciding that he'd like to try another sport aside from dressage. The gelding's link had been sent to him by another equestrian and he'd looked at it, been rather impressed by the short videos of him free-jumping. He had plenty of scope and seemed to enjoy it. He'd appeared pretty well-mannered and seemed to have a good-work ethic.

When Bastille arrived, Andy found out just how much of a chore he truly was. Bastille grew bored easily, acted out on the occasion, spooked at small things, and proved to be very mouthy. He liked to pick pockets and hide whatever he could in his stall, even going so far as to haul a folding chair up over the door and into the bedding. He'd been especially pleased with himself that day.


Fool on the Hill

Master





Posts

: 233


Points

: 247


Reputation

: 2


Join date

: 2014-11-29


Age

: 23


Location

: The Iron Throne




---
Permissions in this forum:
You
cannot
reply to topics in this forum